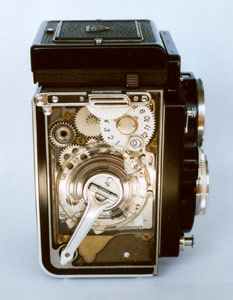 My workshop
I have a variety of original maker's test apparatus, other universal test equipment and special tools with which I can carry out the necessary repairs. (» see details).
I have also fabricated many camera specific tools to enable me to repair various makes of camera.
In addition, I have my own store of spare parts for the Rollei 35, Rollei twin lens and many other classic cameras.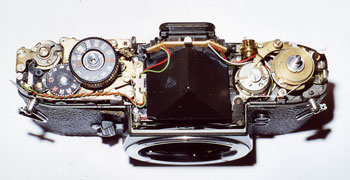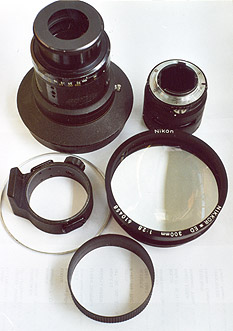 Two cameras from my workshop, with exposed interiors, are shown here - a Rolleiflex SL 350 (above) and a Rolleiflex TLR (above right)
Disassembled, cleaned und revised lens: Nikon NIKKOR ED, 300 mm, 1 : 2,8 (right)
New selenium cells for Rolleiflex TLR
new CDS-photocells for Rollei 35, Nikon F Photomic, Nikon F2 Photomic, Nikkormat, etc.
My most important measuring and test equipment is shown on this photo: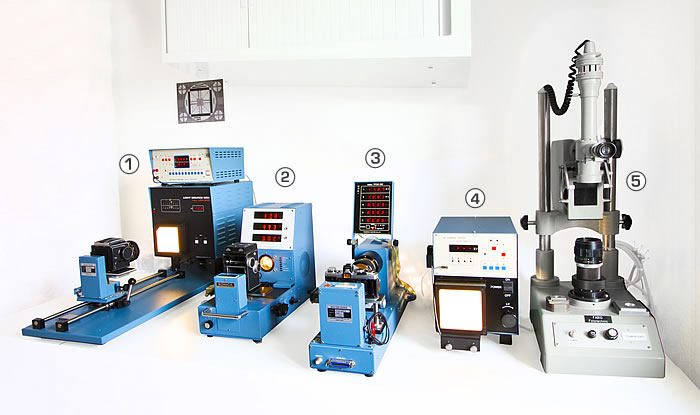 TSUBOSAKA AE multitester, type 7PE-330LB
TSUBOSAKA universal shutter speed tester
TSUBOSAKA shutter tester, type 7FDC-80PT2
TSUBOSAKA AE camera tester type SAE-2
Tamron universal collimator
Details of measuring-, test equipment and special tools:
Click on a picture at the right of the table to obtain an enlarged version:
TSUBOSAKA AE multitester, type 7PE-330LB, number 1 in the picture above
TSUBOSAKA universal shutter speed tester, number 2 in the picture above
TSUBOSAKA shutter tester, Type 7FDC-80PT2, number 3 in the picture above
Shutter speed tests with or without lens system
TSUBOSAKA AE camera tester type SAE-2, number 4 in the picture above
Tamron universal collimator, number 5 in the picture above
Apparatus to check for the parallelism of the film plane and lens
Original Rollei universal-collimator
Gokosha lens tester
Knecht shutter checker sc5 (blind transit time)
Special tools
Different precision focal plane mirrors to control and adjust focus